Construction in 2030 Insights about the future – to help guide your actions today
In Ireland, the weight falls heavily on our construction industry to not only deliver on ambitious plans set out in Project Ireland 2040 but to achieve this in the most sustainable way to help ensure Ireland meets its path to net-zero emissions. The sector is currently facing significant challenges around rising input cost, capacity & production, talent and the adoption of technology. 

Despite these challenges, the sector has proven time and time again its resilience and capacity to change. Our Construction 2030 Report, with insights and opinions from some of the world's leading engineering and construction minds, explores how embedding ESG, managing risks and adopting technologies can pave the way forward for the industry.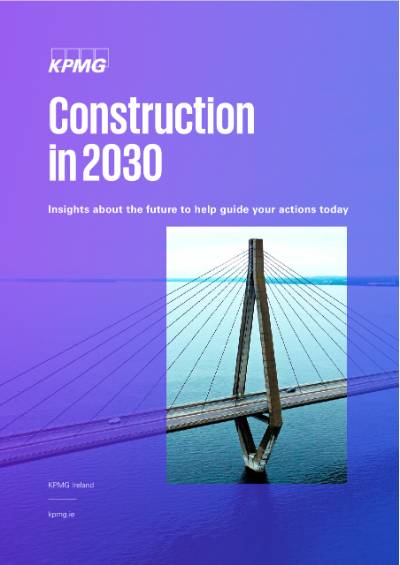 Download full report – https://kpmg.com/ie/en/home/insights/2023/03/construction-2030.html
Construction in 2030 (PDF, 2.7MB)
Achieving a step change in project performance
Striving to improve productivity to deliver on-time, on-budget, high-quality projects.
Pushing the innovation envelope
Embracing innovation with open arms to become "data companies that build things", encompassing modularization and standardization.
Risk management from a higher altitude
Aggregating risk at an enterprise level to gain a clearer view of portfolio risk.
Reliable and resilient supply chains
Suppliers become collaborators in strategic innovation, and localized sourcing and 3D printing aims to become widespread.
A sector in demand
Construction has become an industry of choice for graduates and school leavers, offering exciting careers on the cutting edge of technology.
ESG adoption drives investment
With circular production, sustainable buildings and high ethical standards, low-cost capital flows into projects.